Moderator's lost ring and cross replaced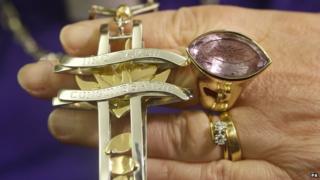 The Church of Scotland has unveiled new ceremonial jewellery to replace items lost at Edinburgh Airport last year.
The previous Moderator of the Kirk's General Assembly lost a gold ring and a cross pendant in a brown saddle-style bag.
The replacements have been crafted from photos of the originals.
The large gold ring, with an amethyst stone bearing a burning bush, and the St Andrews cross are worn by the Church Moderator on official duties.
The jewellery was lost in April 2013 outside the airport terminal.
It was on a luggage trolley at the pre-booked taxi area.
A four-figure sum was offered as a reward for information but the jewels were never found.
The current moderator, the Right Reverend Lorna Hood vowed she would keep them safe.
She said: "I'm terrified. I'm just not going to let them out of my sight.
"I won't be quite wearing them to my bed at night but almost to that stage.
"The cross is lovely, it shows the loaves and the fish and has Scottish gold in it.
"I will cherish it in the time that I have with it and will make sure I look after it."