Passenger rise at Edinburgh, Glasgow and Aberdeen airports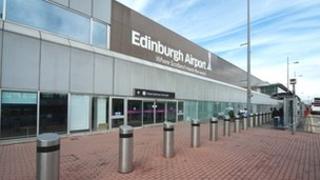 Edinburgh, Glasgow and Aberdeen airports have made positive starts to the year, with all three reporting a rise in passenger numbers in January.
Traffic through Edinburgh Airport was up 11.5% on January 2013, and 436,000 passengers travelled through Glasgow Airport last month, up 6% on last year.
Both airports saw rises in domestic and international passenger numbers.
More than 251,000 people used Aberdeen Airport in January, up almost 10% on the same month in 2013.
Steady increase
Helicopter passenger numbers at Aberdeen also grew by almost 18%.
Gordon Dewar, Edinburgh Airport's chief executive, said: "We've enjoyed a strong start to 2014 with our domestic carriers seeing a steady increase in passenger numbers in January.
"The introduction of Virgin Atlantic's Little Red service to Heathrow has seen an extra 25,000 passengers travel through Edinburgh Airport compared to the same time last year.
"We've also performed well internationally, with Lufthansa doubling their daily service to Frankfurt during the winter season and the new European services from easyJet seeing their passenger numbers increase 12% from January 2013."