Edinburgh scientists use elephant DNA in poacher fight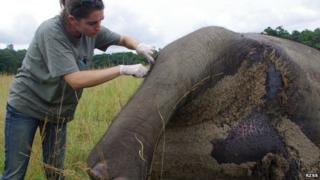 Edinburgh scientists are using DNA techniques to curb the illegal poaching of African elephants for their ivory.
An initiative tracking dead elephants using their genetic information will be launched in London on Thursday by Gabonese President Ali Bongo Ondimba.
The DNA can be used to match traces on blood-stained clothing or to identify illegally traded ivory.
Details will be outlined at the Illegal Wildlife Trade Conference, which involves 50 countries.
Blood stains
Experts from the Royal Zoological Society of Scotland (RZSS) in Edinburgh have contributed to the project, which involves collecting bone and tissue fragments from elephant carcasses killed by poachers.
This allows scientists to create unique profiles which can be matched against poachers' blood-stained clothing or ivory recovered in Africa or Asia.
RZSS has been working with the UK-based Trace Wildlife Forensic Network and the National Parks Agency of Gabon on the initiative funded by the European Union.
Elephant poaching is on the increase in Africa as demand for ivory increases in some Asian countries.
Statistics show that 96 elephants were killed everyday in 2012, and last year large scale ivory movements were 20% higher than in previous years.
Professor Lee White, director of Gabon's national parks, said elephants in Gabon were "extremely susceptible" to poaching activities as they live in forests which make them more difficult to monitor and protect.
'Organised crime'
Dr Rob Ogden, director of conservation science at RZSS, said: "We routinely use wildlife genetic analysis to provide information for conservation management, but the same DNA tools and data can be transferred into forensic investigations to support wildlife law enforcement.
"We're extremely happy to be involved in this project which bridges the gap between conservation genetics and wildlife DNA forensics, enabling the Gabon authorities to apply this information in their fight against poaching."
Dr Ross McEwing, from Trace, said elephant poaching could be classified as an "organised crime" due to the level of co-ordination and logistics required to move shipments internationally.
He said: "Terrorist organisations, such as Al-Shabaab, responsible for last year's bloody shopping mall siege in Kenya, have recently been linked to deriving profits from illegal ivory shipments.
"Combating organised crime requires the use of all available enforcement tools, including wildlife forensic techniques, not only to save species at risk from extinction, but also to help with the investigations of criminal networks that can undermine national and international security."