Dalgety Bay radiation: Management plan by the summer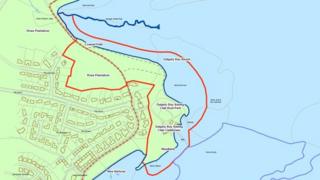 A management plan for a polluted Fife bay in Gordon Brown's constituency should be in place by the summer.
A timetable for dealing with Dalgety Bay had now been agreed between the Scottish Environment Protection Agency and the Ministry of Defence.
Former prime minister Mr Brown has been calling for a clean-up at the bay after radiation was detected.
It is thought to have been caused by the MoD breaking up of hundreds of planes after World War Two.
Mr Brown has raised the issue more than any other in his rare Commons appearances since leaving office, with a series of adjournment debates and written questions to ministers.
Radium-226
In the latest written answer, Defence Minister Andrew Murrison, said: "I will write to you shortly with the detail of the timelines for the further scientific risk assessment and other work necessary to identify an appropriate long-term solution at Dalgety Bay.
"This timetable has been agreed between Sepa and the MoD and should result in identification of the preferred management option for the site by summer 2014.
"Once work on identifying the most appropriate long-term management option has concluded, we expect to play an active part in supporting SEPA in their engagement with wider stakeholders, including the Dalgety Bay Forum, to discuss the practicalities of implementation."
Sepa's report into the contamination, which was published last year, said the MoD had routinely incinerated and disposed of aircraft dials in the bay before the town was developed.
The dials had been illuminated by paint containing radium-226.
The aircraft had been stationed at the nearby HMS Merlin airfield, which was commissioned in 1939 as a Royal Naval Aircraft Repair Yard and decommissioned in 1959 before being sold off in the 1960s.