Hospital car park staff to wear body cameras for protection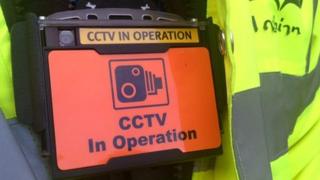 Staff at a hospital car park are to wear personal CCTV cameras in a bid to combat a rise in violence towards them.
NHS Lothian said car park staff at St John's Hospital in Livingston had been subjected to abuse from angry drivers
One attendant was hit with a walking stick and another had a car driven at them during a spate of incidents.
Health bosses hope the CCTV will act as a deterrent to drivers who become abusive, and be a "silent witness" against those who break the law.
George Curley, director of operations facilities at NHS Lothian, said: "We have a zero-tolerance approach to violence and aggression in the workplace and a duty to protect our workforce.
"Some of these drivers think that because no-one else is around to witness their unacceptable behaviour that they will get away with it. That will no longer be the case."
He added: "This abusive behaviour is completely unacceptable and we will not tolerate it."
'A silent witness'
The health board began employing attendants at St John's to help ensure that patients' car parks were used by patients only and not general visitors.
Attendants were also instructed to direct any visitors to use other car parks around the hospital site.
Health bosses revealed that when the move began in November there were two incidents but over December and January the number of reported incidents had increased to 14.
The state-of-the-art personal cameras are the size of a name badge and will be introduced to staff working at the hospital's main car park next week.
If the pilot scheme is successful, it could be extended to other hospitals in NHS Lothian.