Edinburgh College lecturers strike in pay dispute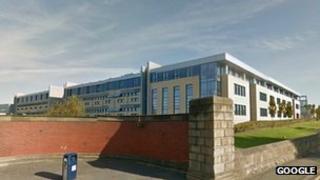 Lecturers at Edinburgh College have gone on strike in a dispute over pay and conditions.
The action is the first of a planned ongoing programme of industrial action.
Lecturers at the college said management's 3% pay offer would still leave them amongst the lowest paid lecturers in Scotland.
Edinburgh College was formed following the mergers of several smaller colleges.
The lecturers on strike are members of the Educational Institute of Scotland's Further Education Lecturers' Association (EIS-FELA).
Pay inequities
Larry Flanagan, EIS general secretary, said: "Edinburgh college lecturers have, reluctantly, been forced into a programme of industrial action by the actions of college management.
"The pay offer from management, which comes with a significant number of strings attached, would still leave Edinburgh College lecturers towards the bottom of the pay scale compared to colleagues at other colleges across Scotland.
"As Scotland moves towards a long-overdue national framework for negotiating the pay of college lecturers, it is essential that management take early steps to correct the pay inequities that have arisen across the college sector.
"Lecturers do not want to strike, but feel that they simply have to take this action in protest at their continuing low pay and the damaging changes to conditions of service that college management are proposing."
'Strong assurances'
Craig Wilson, Edinburgh College acting principal, said: "Within current financial constraints, we believe we have put the best possible deal on the table.
"We recognise our staff already work extremely hard for the benefit of our 26,000 students.
"We want to reward them with as attractive a package as we can afford while still maintaining the long-term sustainability of the college and protecting jobs.
"We have already given the EIS strong assurances over workload and staff welfare.
"I am urging EIS officials to rule out further industrial action, put the needs of the students first, and meet with the board to discuss the situation further."
EIS-FELA members were also due to gather at the Scottish Parliament for a rally in support of the strike at Edinburgh College.
In a separate dispute, EIS lecturers in the EIS-University Lecturers' Association (EIS-ULA) are also taking part in strike action over pay across the country.
The strike is part of an ongoing joint trade union programme of industrial action at universities across the UK.