Art work 'blooms' in Edinburgh's St Andrew Square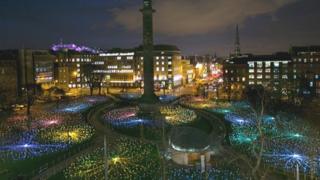 One of Edinburgh's city centre gardens has been transformed into a field of swaying, colourful spheres as part of a unique art installation.
Field of Light, a contemporary light-based work by British artist Bruce Munro, is in St Andrew Square until 27 April.
It is the first public installation of Munro's work in Scotland.
It has 9,000 lighted glass orbs rising from illuminated stems and "bursts into bloom" at dusk.
The spheres light up and change colour.
Munro, who created the first Field of Light in the field behind his Wiltshire home, said he was inspired by the heat and brightness of the Red Desert in Australia, during a visit in 1992.
City centre footfall
Steve Cardownie, Edinburgh City Council's festivals and events champion, said: "Field of Light is a fantastic addition to St Andrew Square and we're delighted to be hosting such a unique and well-received piece of art in the gardens.
"The exhibition follows on from an incredibly successful Christmas and Hogmanay in Edinburgh and I'm confident that this spectacular display will continue to attract interest and footfall to the city centre."
Mr Munro said: "I was thrilled to be invited to Edinburgh and St Andrew Square is a wonderful and unique location to exhibit in.
"The Field of Light is a bit of a chameleon in that the space changes the work more than the work changes the space.
"This is an added bonus for me because each new iteration we create delivers new surprises and gives one the distinct feeling that there is life force pulsating within the installation."
The exhibition, which is free to view, is being funded by Edinburgh City Council with support from Marketing Edinburgh and Essential Edinburgh.
Andy Neal, chief executive of Essential Edinburgh said: "Field of Light promises to be a stunning event in the city centre which will be a genuine attraction, drawing people in particularly in the evening when we know visitors feel there is not enough to do outwith bars and restaurants."
John Donnelly, chief executive of Marketing Edinburgh, said: "This is a stunning installation and we're delighted that it's come to Edinburgh."