Robyn Dougall wins Royal Yachting Association lifesaving award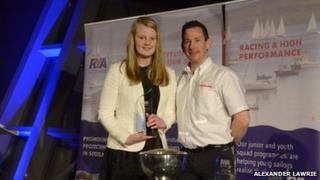 An Edinburgh teenager who helped save the lives of two yachtsmen has been presented with a prestigious lifesaving award.
Robyn Dougall, 15, is a volunteer rescue boat driver on the River Forth.
She helped rescue a man who had been swept into the sea last summer and assisted in recovering a man who had fallen overboard in the sea near Leith.
Robyn has been named the Royal Yachting Association's Young Volunteer of the Year 2013.
During other rescue missions, she has helped save five yachts which were in danger.
The Edinburgh Academy school pupil regularly takes charge of a rescue rigid inflatable boat (Rib) as part of her duties with the Royal Forth Yacht Club.
Life jacket
The first rescue she was involved with came after she spotted a man who had gone overboard during a yachting festival on the Forth last summer.
She said: "We were helping out with the yacht races in force seven winds and we got a radio call to say a guy had got swept overboard.
"I found the boat, pointed it out and we got to him. He probably only had few minutes because he wasn't wearing a life jacket."
Robyn also helped recover a man who been swept into the Forth from a yacht in rough seas off Leith.
Her father Ken Dougall, who started teaching Robyn when she was aged eight, said he was "proud" of his daughter's achievements.