Doctor prescribed 'elephant' insulin dose at Edinburgh hospital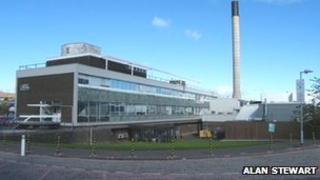 A medical tribunal has heard how a doctor prescribed "enough insulin for an elephant" to an elderly woman at an Edinburgh hospital.
Dr Lucy Mahinda admitted writing an entry for a "lethal" dose of insulin, which was nearly 10 times the correct amount, at Western General Hospital.
The prescription error was spotted by a nurse before the insulin was given.
Dr Mahinda has been found guilty of making a number of clinical mistakes while working at the hospital in 2012.
On Friday, the hearing found her "factually" guilty of the prescription error. The hearing is now continuing so it can determine whether she is fit to practise.
The General Medical Council (GMC) alleges her fitness to practise is impaired by her misconduct and deficient professional performance.
If the hearing finds against her fitness to practise she could face restrictions on her work, a period of suspension, or even erasure from the medical register.
She was not present or represented at the Medical Practitioners hearing in Manchester.
Dr Mahinda acknowledged her insulin prescription error in writing to the GMC, admitting the amount was "a dose for an elephant".
She wrote: "(It) is a very weird error, most probably I would have written down three units, eight units is even too much, but 38 units is a dose for an elephant.
"And apparently the type of insulin was also incorrect. A very weird error, but above all a very serious error. I still find it difficult to believe that I actually prescribed this lethal dose.
"I regret very much having made this particular error."
'Fatal consequences'
During the same shift on 9 June, Dr Mahinda also prescribed 500mg of the drug Nitrofurantoin to an 84-year-old woman when the correct dose was 50mg.
Expert witness Dr Michael Fertleman, told the panel he had never heard of a doctor making such an error before and that it was difficult to know the consequences of such a dose.
He said there was "a significant chance" of fatal consequences, but the panel ruled that there was not enough evidence to prove the claim.
Dr Mahinda was also found to have failed to take two urgent blood samples during the shift.
Other errors included poor record keeping and turning up an hour late to the ward.