Heroin doctor Ashley Sibery suspended by tribunal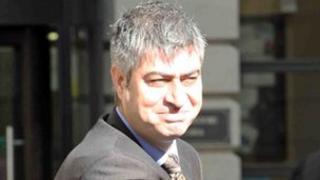 A heroin-user doctor who caused his wife to collapse by injecting her with the drug has been suspended for nine months.
Dr Ashley Sibery gave his wife Sital heroin after she confronted him about his erratic behaviour.
He was sentenced to 200 hours community service at Edinburgh Sheriff Court over the incident, which was in April 2012.
A tribunal has ruled Dr Sibery's suspension from medical practice was a "proportionate response".
Dr Sibery's drug use came to light because his wife required hospital treatment after he gave her heroin.
Moments after injecting the drug at their home in London Street, Edinburgh, she suffered breathing difficulties and collapsed.
'Reckless conduct'
She was taken by ambulance to hospital and made a full recovery.
Dr Sibery was convicted of culpable and reckless conduct when he appeared in court in September 2012 over the incident.
He was spared jail after the court was told he had beaten his addiction and his wife and colleagues were standing by him.
Two days after being charged over the incident involving his wife, Dr Sibery was arrested for drink driving. He was fined £300 and banned from driving for that offence.
At a Medical Practitioners fitness to practise panel in Manchester, the General Medical Council (GMC) called for Dr Sibery to be struck off.
Catherine Cundy, for the GMC, argued that his actions, "including continuing to treat patients whilst taking heroin" were "fundamentally incompatible with continued registration".
But Michael Uberoi, defending, said that erasure from the medical register would be "disproportionate to the facts of the case".
Public confidence
Panel chair Karen Heenan told Sibery: "The panel is of the view that public confidence in the profession would be severely affected by your offences, and that they were serious enough to amount to impairment of fitness to practise.
"Therefore the panel has concluded that your fitness to practise is impaired by reason of your convictions."
But she added: "The panel is of the view that the insight into the convictions you have demonstrated in your oral evidence means that there is a much lower risk that you would reoffend again.
"The panel is satisfied that a period of suspension is sufficient to protect the public interest and is a proportionate response to your convictions."
Dr Sibery will have to attend a review hearing before he is allowed back to unrestricted work.
The nine month ban will take effect in 28 days, subject to appeal, but the panel imposed an immediate suspension order.