Appeal over Mohammad Asghar blasphemy conviction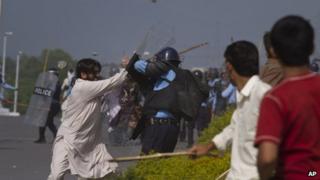 Lawyers for an elderly British man who has been sentenced to death for blasphemy in Pakistan have filed an appeal against his conviction.
Mohammad Asghar, who had lived in Edinburgh, was arrested in 2010 over letters in which he was said to have claimed to be the Prophet Mohammed.
His legal team have argued that the case arose from a property dispute between Mr Asghar and a tenant.
The appeal challenges both his conviction and his sentence.
Mr Asghar was sentenced to death by a court in the Pakistani city of Rawalpindi last Friday after he was found guilty of blasphemy.
The grounds for appeal include the court's failure to consider any evidence of his mental health problems.
Mr Asghar's family have said he was treated for paranoid schizophrenia in Edinburgh before returning to Pakistan in 2010.
His lawyers say that the appeal may take up to five years to be heard by Pakistan's High Court, owing to a huge backlog of cases.
Maya Foa, director of Reprieve's death penalty team, said: "We have grave concerns about the ongoing lack of appropriate medical treatment for Mr Asghar, and hope that the British and Pakistani governments will do everything they can to ensure that he receives treatment without further delay.
"I trust that both governments are exploring every possible option to ensure that it does not take five years to see the effects of this terrible miscarriage of justice reversed."
Earlier this week, Prime Minister David Cameron told the House of Commons that the UK government was treating the case "very seriously".
Mr Cameron said ministers had spoken to the chief minister in the Punjab.
The high commissioner in Islamabad had raised it with authorities there, the prime minister added, and meetings were being held in London.