Lothian Buses carried a record 115 million passengers in 2013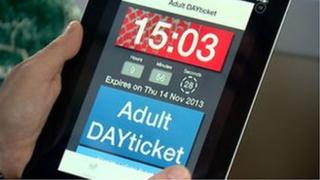 Lothian Buses have announced they carried a record 115 million passengers last year - an increase of 4.6 million.
The extra tickets took usage to a 25-year high, with the company also seeing growth in season tickets, Edinburgh City tours and its Nightbus service.
Online sales increased, with 74,000 e-tickets sold and more than 37,000 downloads of their Journey Planner app.
The firm said it was pleased with the figures and it was looking forward to combining with the city's new trams.
Chief executive Ian Craig said: "A thriving public transport system is vital for everyone who needs to move around Edinburgh, and our commercial success also means that we can continue to positively contribute to the public purse through dividends to our shareholders.
"Our high levels of customer satisfaction and strong commercial performance is a testament to the quality of our people who day-in, day-out deliver an exceptionally well regarded service to our customers.
"2014 will be a big year for Scotland and Transport for Edinburgh. Many eyes will be focused on the long awaited arrival of the trams and we're excited to be playing a key role as the operator."
'Right road'
Edinburgh City of Commerce chief executive David Birrell said: "Good transport links help us all get to where we need to be around the city. Lothian Buses has a great track record and will be pivotal in the further development of the integrated transport network in Edinburgh.
"That is crucial for the capital's overall connectivity and our ability to compete with other major European cities. The obvious demand for public transport options shown by these figures and the imminent arrival of trams gives encouragement that we're on the right road."
City of Edinburgh Council's transport convener Lesley Hinds said: "The continued success of Lothian Buses is good for all of us, not just those who frequently use its services, especially as we approach a new era in Edinburgh's public transport.
"2014 will be a very significant year for the capital and Lothian Buses, as part of Transport for Edinburgh, will be at the heart of it."