Lawyers fear for death row Scot's health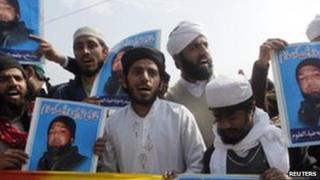 A Scot sentenced to death in Pakistan for blasphemy urgently needs mental health treatment, according to his lawyers.
Mohammed Asghar's lawyers said they found their client "pale, dehydrated, shaking and barely lucid".
They were able to get documents signed so that Mr Asghar is able to file his appeal against the sentence handed down last Thursday.
They told Reprieve they were very concerned about his mental health.
Appropriate medication
The lawyers said Mr Asghar has been diagnosed with paranoid schizophrenia, but the prison medical staff remained unaware of his serious psychiatric illness, and were not providing him with the appropriate medication.
Maya Foa, director of Reprieve's death penalty team, said: "We are extremely worried about Mr Asghar's mental health, which appears to have seriously deteriorated.
"We are also extremely concerned by the reports he is not being given the correct medication for his illness, putting him in a perilous position.
"We hope that the authorities in Pakistan and the UK will take all necessary steps to ensure that he gets the expert treatment he needs without delay."