Former MSP Bill Walker to appeal convictions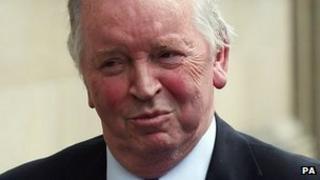 A former MSP who was found guilty of assaulting three ex-wives and a step-daughter is seeking to have two of his convictions quashed.
Lawyers for Bill Walker will appear at the Court of Criminal Appeal in Edinburgh next month.
He was jailed for 12 months in 2013 after being convicted at Edinburgh Sheriff Court of 23 charges of assault and breach of the peace.
He was branded a "caveman" by Sheriff Kathrine Mackie.
She told Walker, who previously represented Dunfermline in the Scottish Parliament, that he was "controlling, domineering, demeaning and belittling" towards his ex-partners.
During proceedings, the court heard how Walker assaulted his first wife Maureen Traquair, 66, an artist and photographer, on three separate occasions in the 1960s and 1980s.
Self-defence
The court also heard he assaulted his second wife Anne Gruber, 71, 15 times at various addresses in Edinburgh and Midlothian between 1978 and 1984.
Walker was convicted of four assaults on his third wife Diana Walker, 61, three of which involved slapping or punching her on the face. The attacks happened between June 1988 and January 1995.
The former MSP was also found guilty of assaulting Mrs Gruber's daughter Anne Louise Paterson, when she was 16, by repeatedly striking her on the head with a saucepan in 1978.
He claimed he had acted in self-defence after being assaulted by his stepdaughter.
After he was convicted, Sheriff Mackie said Walker engaged in the "systematic physical and emotional abuse" of his ex-wives.
He became the SNP MSP for Dunfermline in 2011 and was expelled by the party in April 2012 after the allegations of abuse were exposed.
His appeal will be heard on 17 February.