Chicken rescued from crushing machine in East Lothian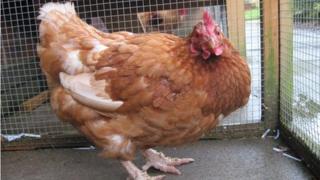 A chicken dumped in a recycling crusher machine in East Lothian has been saved just before it was switched on.
A member of staff was about to switch on the crusher at the centre on Heugh Brae in North Berwick when he heard a noise coming from the machine.
He picked up the box, shook it and heard the noise again. When he opened the box a chicken jumped out.
The Scottish SPCA said there was another chicken found in the box on Saturday but it had already died.
The charity is appealing for information.
Animal ban
John Toule, of the Scottish SPCA, said: "Jill is a red hybrid hen and has a friendly, sweet nature so it's very likely that she has been kept in a domestic setting.
"This was a particularly cruel abandonment which appears to have been done with the intention of causing the birds serious harm or death.
"A review of CCTV footage has revealed a man placing the box into the skip close to the inactive crusher 45 minutes before the staff member was alerted.
"We believe the individual responsible for this act may have been driving a silver Citroën or Peugeot type vehicle.
"It may be that someone locally might have noticed their neighbour's hens going missing and if so we'd like them to get in touch with us. We would urge anyone with information to contact our animal helpline on 03000 999 999."
Abandoning an animal is an offence and anyone found guilty of doing so can expect to be banned from keeping animals for a fixed period or life.