Family appeal over Pakistan death sentence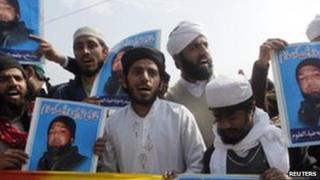 The family of a Scot sentenced to death in Pakistan for blasphemy have appealed to the UK government to intervene.
Mohammed Asghar, from Edinburgh, was arrested in 2010 in Rawalpindi for claiming to be the Prophet Mohammed.
His family said he suffers from mental illness and was treated for paranoid schizophrenia in Edinburgh before returning to Pakistan in 2010.
The Foreign Office said it would continue to make representations to the Pakistan government.
Mr Asghar was convicted last week. His family want him released to get medical help.
The blasphemy complaint was brought against Mr Asghar by a tenant with whom he was having a dispute.
Lawyers said they will appeal against the conviction and are worried about his mental condition and physical safety while he is in prison.
Horrific conditions
In a statement released through human rights charity Reprieve, Mr Asghar's family said: "Our father, a British citizen, has been sentenced to death in Pakistan for blasphemy despite being a confirmed paranoid schizophrenic by the doctor who was treating him in the UK.
"We, his family, want him released by the Pakistani government so he can be treated appropriately for his medical condition.
"As a result of a property dispute with one of his tenants, my father was jailed pending a trial.
"The dates kept being moved forward so that by the time the trial concluded he had already been in horrific jail conditions, sharing a cell with several other men for three years.
"Throughout this time he had minimum access to medication that might have helped his mental illness for three years."
A petition has been launched on change.org addressed to Prime Minister David Cameron and Scotland's First Minister Alex Salmond calling for Mr Asghar's release.
Scores of people have been arrested in Pakistan under the country's blasphemy laws but death penalties are rarely carried out.
Few leaders have shown willingness to tackle the issue since two prominent politicians who criticised the blasphemy law were murdered in recent years.
Consular assistance
Maya Foa, director of Reprieve's death penalty team, said: "It is an absolute disgrace that Mr Asghar's lawyers are not being allowed into the prison to see their mentally-ill client just after he has been given a death sentence.
"We are calling on the British and Pakistan governments to take all possible measures to ensure that Mr Asghar is protected and that his lawyers are given immediate access to the prison."
A spokeswoman for the Foreign and Commonwealth Office (FCO) said: "We are aware that Mohammed Asghar is facing the death penalty in Pakistan.
"The British government remains opposed to the death penalty in all circumstances and we are dedicated to doing all we can to prevent the execution of any British national.
"We will continue to provide consular assistance to Mr Asghar and his family during this difficult time.
"We have continuously made representations to the Pakistan government on behalf of Mr Asghar and we will continue to do so."