School run cars banned from streets in Haddington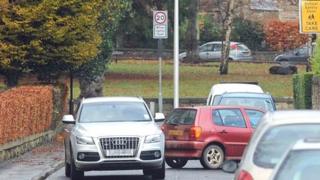 Vehicles have been banned from three roads leading to primary schools in the East Lothian town of Haddington at drop-off and pick-up times.
The move affects Neilson Park Road, Victoria Road and Wemyss Place.
The ban is aimed at tackling dangerous driving by parents dropping their children off at King's Meadow Primary, Haddington Infant School and St Mary's RC Primary.
The move is thought to be the first of its kind in Scotland.
From Monday, cars will be banned from the streets between 08.30 and 09:30 on week days.
They will also be banned between 15:00 and 16:00 from Monday to Thursday, and from 11:45 until 12:45 on Fridays.
East Lothian Council said the road closures were being introduced because of concerns about a minority of people who were driving or parking irresponsibly close to the school.
Exceptions will be made for residents and emergency and delivery vehicles.
Peak periods
The council hopes the measure will make the routes safer and encourage more children to walk to school.
Other councils with similar problems said they would watch the Haddington experiment with interest.
Michael Veitch, East Lothian Council's cabinet member for transport, said: "East Lothian Council has received concerns in recent years from parents, teachers and residents in roads leading to schools about poor and potentially dangerous driving practices.
"Working together, the schools and council introduced a number of measures to support the safety of youngsters and others walking or cycling to the primary schools, including traffic calming, parking restrictions, signage and new pathways.
"Unfortunately at peak periods a small number of drivers continue to drive or park irresponsibly too close to schools, which has led to the introduction of this trial on the cul-de-sac roads leading to the town's infant and primary schools."