Edinburgh show of Burns work written in Dumfriesshire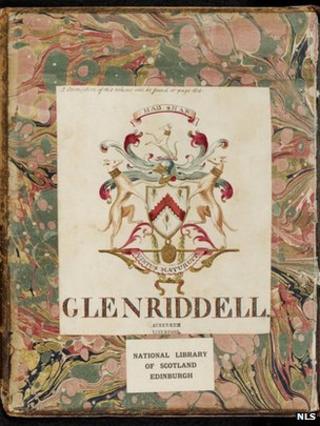 Handwritten poems and letters by Robert Burns have gone on display at the National Library of Scotland in Edinburgh ahead of Burns Night.
The Bard wrote two volumes for his friend Capt Robert Riddell of Glenriddell between 1791 and 1793.
The material, which became known as the Glenriddell Manuscripts, later ended up in the US before it was returned to Scotland 100 years ago.
Burns wrote the poems and letters while he was staying in Dumfriesshire.
NLS's new display, which has opened in the run up to Burns Night on Saturday, charts the controversial sale of the Glenriddell Manuscripts in 1913.
The Liverpool Athenaeum, a gentlemen's club which had taken possession of the manuscripts 60 years earlier, had them auctioned through Sotheby's for £5,000 - about £333,000 in today's money.
Burns societies and leading individuals such as the Earl of Rosebery opposed the sale and challenged the right of the Athenaeum to sell the papers.
The sale was described as an outrage and an insult to Scotland but it went ahead regardless.
The manuscripts were bought by a bookseller JW Hornstein for an American client. At that point they were thought to have been lost to Scotland.
However, the manuscripts were then offered for sale to a Burns enthusiast in Philadelphia, John Gribbel, who had made a fortune from supplying gas and electricity to American cities.
Gribbel already owned some of Burns's papers but, aware of their importance to Scotland, had the newly acquired Glenriddell Manuscripts returned.
Robert Betteridge, the NLS curator who has organised the display, said the poems and letters were among the library's "greatest treasures".
He said: "Their journey from Dumfriesshire where Burns wrote out the poems and letters, to Liverpool and then the United States is a fascinating one.
"We are only able today to make them available for people to see because of the intervention and generosity of John Gribbel.
"It is fitting that we mark the centenary of their gift to the people of Scotland in this way."