100 years of Edinburgh zoo penguins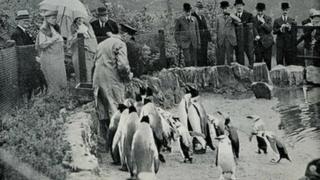 Edinburgh zoo's most iconic species was put on show to the public for the first time 100 years ago.
The penguins were the first to be seen in Europe, having been shipped from South Georgia to Leith Docks.
Six penguins, including four king penguins, a gentoo and a macaroni arrived on the Salvesen ship Coronda.
Edinburgh was the first zoo in the Northern Hemisphere to breed king penguins, and the first in the world to breed macaroni and gentoo penguins.
Its daily parade of the penguins started in 1951 allowing visitors to get up close to the birds.
Colin Oulton, team leader for birds at Edinburgh Zoo, said: "The world may have changed a lot over the past century, but penguins have always remained a firm favourite with our visitors."
The original penguin pool was built at cost of £150, housing the only king penguins in Europe.
In 2013, the upgraded habitat Penguin Rocks was opened after a £750,000 refurbishment programme.
Mr Oulton said the zoo also had the highest-ranking penguin in the world.
King penguin Sir Nils Olav became a mascot for the Norwegian Guard, rising through the ranks from Lance Corporal all the way to Colonel-in-Chief.
In 2008, the bird received a knighthood which was approved by the King of Norway.