Mikaeel Kular: Overnight search for missing three-year-old boy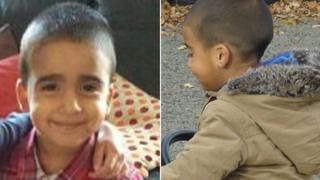 Police officers are to continue searching through the night for three-year-old Mikaeel Kular, who is missing from his Edinburgh home.
The last confirmed sighting of Mikaeel was when his mother put him to bed on Wednesday night.
More than 200 members of the public joined professional search teams looking for the missing boy on Friday.
Police are examining a potential sighting of Mikaeel close to his home on Thursday morning.
Officers have said they are investigating the possibility that Mikaeel had gone missing following "a criminal act".
However, they have also stressed it was "entirely possible" he had left home of his own accord.
On Friday night, Police Scotland thanked the public for their "overwhelming support and assistance" during the search activity to trace the three-year-old boy.
A spokesman said: "Over 200 local residents came out to participate in the extensive police search operation throughout the Drylaw area.
"Officers will continue with this activity during the night.
"Further searches will continue tomorrow (Saturday) and any volunteers wishing to assist are asked to attend at the West Pilton Neighbourhood Centre in West Pilton Grove at 10am.
"Any members of the public coming along are reminded to dress for the conditions and ensure they have appropriate clothing and sturdy footwear.
"To ensure the safety of all civilian search members, it is requested that only those over the age of 18 attend. Specialist search dogs will also be deployed and so it is asked that volunteers leave their own pets at home."
Members of the public have reported seeing a young boy matching Mikaeel's description at about 08:30 on Thursday morning in West Pilton Gardens, close to his flat in Ferry Gait Crescent.
CCTV footage has confirmed the sighting, but could not confirm the identity of the child.
The child was seen wearing what appeared to be a hat or cap. Mikaeel was said to not like wearing hats, and no cap or hat is thought to be missing from his home.
A police helicopter, sniffer dogs, coastguard and lifeboat teams have been among those involved in the ongoing search.
Police urged anyone with information to telephone the Child Rescue Alert 0300 200 0200 number, and have asked local residents to check their gardens, sheds, parks and lock-ups.
A photograph showing Mikaeel in the coat he was believed to be wearing when he disappeared - a beige hooded jacket with grey fur-lined hood - has been released.
He may also have been wearing black gloves with multi-coloured fingers, dark navy blue jogging bottoms, a grey pyjama top featuring an embroidered turquoise dinosaur on the chest and brown Clark shoes with two Velcro straps.
He is 3ft tall and has a faded scar on the bridge of his nose and a sore on the left side of his mouth.
Mikaeel, who is British with Asian parents, was at home with his mother and four siblings, including his twin sister, when he was last seen.
His mother, named locally as Rosdeep Kular, 33, put him to bed at about 21:00 on Wednesday. He was not in the flat when the family woke at about 07:15 the next morning.