Corstorphine Hill murder trial: Court told of 'unanswered questions'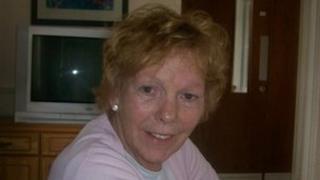 The trial of a man accused of burying his mother in a shallow grave has been told there would always be unanswered questions over the case.
Advocate depute Alex Prentice QC, prosecuting, told the jury that the case against James Dunleavy, 40, was a circumstantial one.
But he said it was one in which pieces of evidence came together like strands in a cable.
Mr Dunleavy denies all the charges against him.
Mr Prentice began his closing speech to the jury by saying that Mr Dunleavy, also known as Seamus, had indeed done "something bad".
Workmate Matthew Hagan, 26, claims the accused made the comment to him just days before his arrest.
"There will be some unanswered questions in this case, some unresolved issues," said Mr Prentice.
Mr Dunleavy denies battering to death his mother Philomena, 66, of Marino, Dublin, between 30 April and 7 May last year.
He also denies attempting to defeat the ends of justice by trying to cover up the murder and destroy evidence.
At the time, Mr Dunleavy was living in a flat Edinburgh's Balgreen Road.
'Blunt force'
The murder charge alleges that it was there that he inflicted "blunt force trauma" by means unknown, compressed his mother's throat and cut off her head and legs with a blade and something like a saw.
A second charge - as now amended - accuses Mr Dunleavy of transporting his mother's dismembered body to a secluded clearing on Corstorphine Hill and burying her there.
Mr Prentice appealed to the jury to apply "common sense" to the question of what happened to Mrs Dunleavy.
Her son claimed she left his flat in Balgreen Road, Edinburgh, without warning to go home to Dublin.
But she left clothing, 870 euros and her identity card in her son's home.
"Do you not think it is extraordinary that all these things were left?" said Mr Prentice.
He said it was possible that Mrs Dunleavy had been walking in the woods on Corstorphine Hill when she was attacked and killed.
But why, he asked, would her killer cut off her head and legs?
"Dismemberment has an advantage for someone who has killed a person. It makes the body more transportable," he said.
Mr Prentice said her killer had to take risks but had buried Mrs Dunleavy without being seen.
'CSI in spades'
Later, defence QC Gordon Jackson put it to the jurors that police found no evidence that Mr Dunleavy had cut up his mother's body despite "CSI in spades".
He said his client had a very simple response to the Crown case: "I never."
Mr Jackson continued: "Nothing could be simpler than that. He says 'I didn't do any of it'.
"'I didn't kill her, I didn't harm her, I didn't do anything to her body and I did not bury her.'"
Mr Jackson recalled evidence from police officers and forensic scientists about their search of Mr Dunleavy's flat in Balgreen Road.
They had used blood-revealing chemical Luminol, special lighting and had taken up the flooring.
"You could not imagine a more intense, detailed examination for something that might have been cleared up.
"What did they find? Nothing."
Mr Jackson went on to argue that even if the Crown could prove beyond reasonable doubt that Dunleavy buried his mother, they could not prove he killed her.
He also said that if the jury went against him, Dunleavy's mental state was such that the verdict should be guilty of a reduced charge of culpable homicide, not murder.
The judge, Lord Jones, is expected to give the jury legal directions tomorrow before they are asked to consider their verdicts.