Corstorphine Hill murder trial: Accused 'did something bad'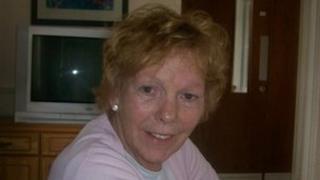 A man accused of killing his mother and burying her in a shallow grave told a workmate he had done "something bad", a court has heard.
Matthew Hagan, 26, told the High Court in Edinburgh about the conversation with James Dunleavy.
The two men had been labourers together on the Edinburgh tram project.
Mr Dunleavy, who is 40, denies killing his mother Philomena, who is from Dublin, and burying her dismembered body on Corstorphine Hill.
Mr Hagan told the court he and Mr Dunleavy were paired together operating jackhammers to smash through concrete.
Going away
He said Mr Dunleavy, who is also known as Seamus, told him he was going away but would not say why.
"He said he had done something he wasn't proud of," he added.
"He said he had done something bad, something he was ashamed of but he wouldn't reveal to me what it was."
Mr Hagan, from Glasgow, gave details of the conversation to detectives after Dunleavy's arrest.
He told them Dunleavy's words were "I have done something bad, brother."
He added: "I asked him where he was going and he said 'I don't know. It could be years, weeks, months.'"
Mr Hagan agreed with defence QC that Dunleavy was someone who would "talk a lot of nonsense" and for him to say things which did not make sense was not unusual.
Doctors
The court later heard that Mr Dunleavy posed a problem for doctors.
Psychiatrists Dr John Crichton and Dr Khuram Khan have been dealing with him since his arrest last July.
They agreed Mr Dunleavy had a serious problem but they could not agree what it was.
Both said their task was complicated by the accused man's refusal to discuss what he is alleged to have done.
Dr Khan, currently looking after Mr Dunleavy in the State Hospital, Carstairs, said he could be suffering from paranoid schizophrenia - but his assessment was not yet complete.
Dr Crichton said his diagnosis was paranoid personality disorder.
'Delusions and obsessions'
Dr Crichton's opinion was that although Mr Dunleavy had odd beliefs he was someone who could still be reasoned with.
He was not someone completely in the grip of his delusions and obsessions.
"I did not think him incapable of making decisions," the psychiatrist told the trial.
He said Mr Dunleavy might interpret "benign events" as something directed towards him and he was someone who could bear a grudge.
Dr Khan said there were issues he was still trying to tease out.
"It is a complicated case," he told the trial.
Evidence
Mr Dunleavy denies battering to death his mother Philomena, 66, of Marino, Dublin between 30 April and 7 May 2013.
He also denies attempting to defeat the ends of justice by trying to cover up the alleged murder and destroy evidence.
At the time, Mr Dunleavy was living in a flat Edinburgh's Balgreen Road.
The murder charge alleges that it was there that he inflicted "blunt force trauma" by means unknown, compressed his mother's throat and cut off her head and legs with a blade and something like a saw.
A second charge accuses him of pretending his mother was unwell and had returned to Ireland.
The charge further alleges that Mr Dunleavy put his mother's torso, severed legs and head into a suitcase and took the dismembered body to Corstorphine Hill where he buried her.
Prosecutors also claim that he vacuumed and washed his flat to remove blood stains and torched a bed and mattress.
The trial continues.