Edinburgh Waverley Station: Car and taxi ban comes into force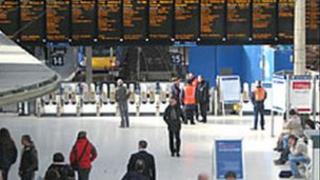 Cars will be banned from Edinburgh's Waverley Station from next Monday.
It follows the completion of three years of work to refurbish and upgrade the station's entrances.
Only taxis with permits and security clearance will be allowed into the station. Access will also be granted to a number of dedicated disabled travel service vehicles.
Network Rail said the move was aimed at reducing congestion and increasing passenger safety.
Passengers will be able to be dropped off at Market Street and Calton Road.
Free, short-term parking for up to 30 minutes will also be available in New Street car park to the south of the station.
Security guidance
David Dickson, acting route managing director for Network Rail Scotland, said: "The station has seen the number of vehicles using the south ramp access road increase steadily in recent years, resulting in regular congestion within the station and an increasing level of risk to passengers crossing from the concourse to platform 11.
"The changes which are now being implemented will help reduce congestion, reduce the risk to passengers circulating on the south side of the station and improve air quality for all station users and staff.
"The restrictions will also help to increase capacity for the forecast growth of the station and enable the station to comply with security guidance provided by the Department for Transport."
Mr Dickson said Waverley Station was the last major station in Scotland to allow vehicles access to the concourse due to the fact it was situated in a location which makes access "challenging".
However, he said improvements to station entrances had made it more accessible.
He added: "We understand that removing private vehicles from the station will do away with a convenience that people have become used to, however; it is our job to balance convenience with the safety and best interests of all of our station users."