Corstorphine Hill murder trial: 'Difficult to say' how victim died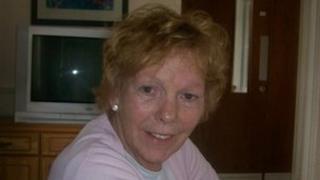 A woman's dismembered body had lain so long in a shallow grave in Edinburgh it was impossible to say for certain how she died, a pathologist has said.
Dr Ian Wilkinson told a murder trial there were injuries on Philomena Dunleavey's body, head and limbs.
Her son James Dunleavy, 40, denies murder and attempting to defeat the ends of justice.
The High Court in Edinburgh also heard he showed no emotion when confronted by detectives.
It is alleged he buried his mother's dismembered remains in a clearing on Corstorphine Hill, a nature reserve in Edinburgh.
Giving evidence, Dr Wilkinson said it was difficult to say if Mrs Dunleavey's injuries had been sustained before or after the 66-year-old's death. He said the official conclusion was that the cause of death was "unascertained."
Conclusive cause
The pathologist told defence QC Gordon Jackson: "Because of the condition in which the body was found a lot of our findings have to have caveats."
Dr Wilkinson agreed with Mr Jackson that the injury to the neck bones might have been caused by someone gripping there while sawing off Mrs Dunleavy's head.
He also agreed that a broken bone in the shin could have happened during handling of the body.
The lawyer asked if injuries could have been the result of a fall.
"That is indeed a possibility," Dr Wilkinson told him.
He also agreed that, after her death, someone else could have dismembered the body.
The court heard a number of marks were found which might have been bruises or might have been caused after death. There was also bleeding round the brain.
Advocate depute Alex Prentice QC asked if a blow to the head could have caused the haemorrhage. "That would be a possibility," replied the pathologist.
He also agreed that fists alone could have caused the injuries.
'No emotion'
Dr Wilkinson was asked if Mrs Dunleavy, from Marino, Dublin, might have been alive but unconscious when a blade or saw was used on one of her legs.
He told the court that all the signs suggested it was most likely she had been dead when she was beheaded and both her legs were severed at the top of the thigh.
The trial heard that Mrs Dunleavy suffered from coronary heart disease and there were traces of drugs in her body - including morphine.
Later the trial also heard evidence from Det Con Brian Manchester, who questioned Mr Dunleavy after he was detained on 8 July last year.
The detective said Mr Dunleavy answered "no comment" to most of the questions put to him.
The court heard that during an hour-long interview, the detective asked why, when Mr Dunleavy had telephoned police five days earlier, he had spoken about his mother in the past tense - when it had not been confirmed that she was dead.
"No comment," Mr Dunleavy had replied.
Advocate depute Alex Prentice QC, prosecuting, asked the detective: "Throughout your dealings with Mr Dunleavy did he ever exhibit any emotion?"
Det Con Manchester told him: "No, not during the interview."
He said at one point Mr Dunleavy had accused him of "hawking" or eye-balling him, but that was all.
'Blunt force trauma'
The trial heard that the accused also said he had not seen the photo reconstruction of his mother's face which had been publicised in the media.
Prof Caroline Wilkinson, 48, of Dundee University - an expert in craniofacial identification - told how she was called in after police launched Operation Sandpiper to try to identify the woman found on Corstorphine Hill.
She described how, beginning with computerised details of a skull, a picture of a face could be built up and features, such as hair, added with Photoshop.
The murder charge alleges that Mr Dunleavy inflicted "blunt force trauma" by means unknown, compressed his mother's throat and cut off her head and legs with a blade and something like a saw.
A second charge accuses Mr Dunleavy of pretending his mother was unwell and had returned to Ireland.
The charge further alleges that Mr Dunleavy put his mother's torso, severed legs and head into a suitcase and took the dismembered body to Corstorphine Hill, where he buried her.
Prosecutors also claim that Mr Dunleavy vacuumed and washed his flat to remove blood stains and set fire to a bed and mattress.
The trial continues.