More police on patrol in Edinburgh at weekends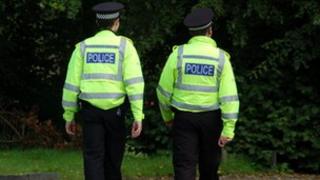 Extra police officers are being put on duty in Edinburgh city centre at weekends.
The move by Police Scotland follows a review of operations and feedback from the public.
The measures are designed to combat rowdy behaviour and alcohol-related incidents.
They have been made possible by a shake-up of shift patterns in the force - releasing more officers for duty when they are needed most.
As part of the changes, 160 officers are being moved into local community policing teams to be deployed on foot or bicycle across the city.
The Edinburgh division of Police Scotland is also introducing an appointment system to ensure that on occasions when police are unable to attend immediately to take a report of a minor crime, an appointment can be scheduled for officers visit the caller at a convenient time for them.
Visible officers
Divisional commander Chief Superintendent Mark Williams said: "This is an important and progressive change for Edinburgh division, and is something which communities across the city will immediately see the benefits of.
"One hundred and sixty officers added to community policing teams means extra officers out where the public want to see them - on foot patrol in local streets responding to their concerns and available to speak to them.
"The changes made to officers' shift patterns also mean that there will be more officers visible in the streets and available to deal with incidents at the busiest times between 2pm and midnight throughout the week, and we will also be able to provide additional officers to work in the city centre during the weekends to deal with disorder associated with the night-time economy."