Sperm whale carcass being moved from Portobello beach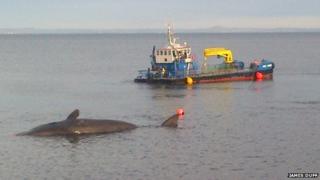 Efforts are under way to remove the carcass of a sperm whale that was washed up near an Edinburgh beach.
The 13.8m whale was found at Portobello beach near the Rockville hotel in Joppa, at about 07:30 on Saturday.
Marine experts believe it may have died after being hit by a boat in deeper waters.
The carcass has been towed to a port, where it will be lifted by a crane onto a lorry and taken to Dunbar to confirm the cause of death.
Edinburgh Council is responsible for its transportation to the Scottish Marine Animal Stranding Scheme facility, where the autopsy will be carried out.
Teams from Police Scotland, the SSPCA, Whale and Dolphin Conservation and Scottish Animal Welfare have been at the scene.
Corinne Gordon, a marine mammal medic with British Divers Marine Life Rescue, who examined the whale and took measurements, said it had suffered deep cuts around its mouth and to its dorsal fin.
"It is a male sperm whale which is not adult that has washed up," she said.
"It has possibly been hit by a boat or propellers and that has caused severe damage. It has been dead for some time.
"It is possible it has been struck out in the deep and then washed inshore."