Dead sperm whale washed up near Edinburgh beach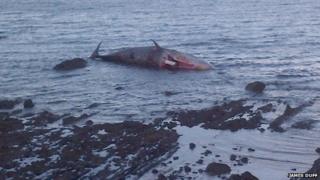 A dead sperm whale has been washed up near a beach in Edinburgh.
An animal welfare organisation said it had been alerted to the incident on the shore near the Rockville hotel in Joppa at about 05:15.
A spokesman for Scottish Animal Welfare said: "On arrival it was clear life was extinct, so there was no need to mount a rescue operation."
Initial reports said it was a basking shark. However, experts later confirmed they believed it was a sperm whale.
British Divers Marine Life Rescue were called out to check over the mammal, and at about 08:00 the Scottish SPCA officially confirmed it was dead.
A marine biologist is expected to take samples from the whale before it is either pushed out to sea or removed from the water. Edinburgh Council will be responsible for its removal.