Corstorphine Hill murder: Accused James Dunleavy 'had episodes'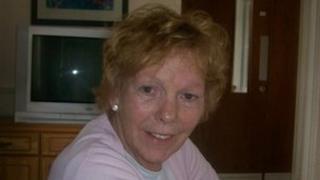 A woman whose dismembered body was found in a shallow grave said she left her son alone when he had "episodes", a murder trial has heard.
Philomena Dunleavy's son James denies battering her to death before burying her on Edinburgh's Corstorphine Hill.
The trial was told Mrs Dunleavy, 66, walked into a police station just days before her death.
The station assistant, Carole Ross, told the trial Mrs Dunleavy had asked where she could get a cheap room.
Giving evidence to the High Court in Edinburgh, Ms Ross said the woman she had spoken to had "lovely teeth and an Irish accent".
Ms Ross added: "She said her son had had an episode and she walked away from him when he had episodes."
'A bit confused'
The following morning - 28 April - PC Grant Robertson was on mobile patrol when he was alerted to a woman "in a confused state" on Edinburgh's Western Approach Road, on the other side of the city.
PC Robertson said he saw Mrs Dunleavy sitting on an embankment near the point where the road heads towards Murrayfield rugby stadium.
"She seemed a bit confused and reluctant to engage with me," he told the court.
Eventually she gave enough information for PC Robertson and his colleague to take her to her son's flat in Balgreen Road, about a mile away.
It was there, prosecutors allege, that Mrs Dunleavy, from Marino, Dublin, could have been murdered between 30 April and 7 May last year.
Operation Sandpiper was launched after her near naked torso, together with severed head and legs, were unearthed on 7 June.
Almost a month later, James Dunleavy, 40, who is also known as Seamus, phoned police to say he thought the dead woman might be his mother.
He told them she had left his flat suddenly and without warning on 3 May.
'Hard work'
Det Sgt Stuart Wilson interviewed Mr Dunleavy at his flat on 3 July, the evening after the phone call.
Mr Dunleavy told him that his mother was a free spirit who came and went without warning and frequently left her mobile phone switched off so no-one could contact her.
He said he had called police because a relative had seen a computer-generated image on the internet and thought it might be his mother, who seemed to be missing.
Mr Dunleavy also told them his mum was "hard work" and "a difficult person" who suffered from nerves and anxiety.
"Her condition has deteriorated since my brother, Terry, was murdered in Dublin eight years ago," he said.
He also told how he and his mother had been on good terms on their last evening together.
"I think we may have had a curry. I made it in the house and I think it was lamb curry. I am not much of a cook but I enjoy doing it," he told the officer.
Earlier the trial heard that caraway seeds, a possible ingredient of curry, were traced in Mrs Dunleavy's stomach.
Forensic scientists
It also heard that forensic scientists used chemicals and special lighting to search Mr Dunleavy's home.
They found two tiny blood spots in a bedroom which matched the DNA of Mrs Dunleavy.
Forensic scientist Amanda Pirie agreed with defence QC Gordon Jackson's suggestion that the search, using special lighting and the chemical Luminol, failed to find anything significant.
Mr Dunleavy also denies attempting to defeat the ends of justice by trying to cover up the alleged murder and destroy evidence.
The murder charge alleges that he inflicted "blunt force trauma" by means unknown, compressed his mother's throat and cut off her head and legs with a blade and something like a saw.
A second charge accuses Mr Dunleavy of pretending his mother was unwell and had returned to Ireland.
The charge further alleges that Mr Dunleavy put his mother's torso, severed legs and head into a suitcase and took the dismembered body to Corstorphine Hill where he buried her.
Prosecutors also claim that Mr Dunleavy vacuumed and washed his flat to remove blood stains and set fire to a bed and mattress.
The trial is due to continue to Monday.