Edinburgh Zoo staff confirm sex of UK's first koala joey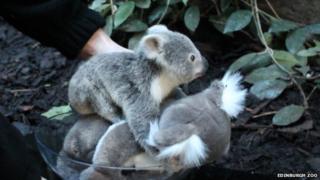 Keepers at Edinburgh Zoo have sexed a koala joey born there in May 2013.
The young male has spent most of the time since birth in his mother's pouch or clinging to her belly.
Edinburgh is the only zoo within the UK to house koalas and has been part of the European breeding programme for eight years.
Koala numbers are in decline throughout the eastern coast of Australia due to habitat loss, land degradation and population segregation.
The zoo has named the young male Yooranah, an indigenous Australian word meaning "loving".
During regular weigh ins, Yooranah is placed on a soft toy for stability and comfort.
He currently weighs 632g (1lb 6oz).
Senior keeper Donald Gow said: "It's very exciting to watch Yooranah as he grows. This is the first time that a koala joey has been born in the UK so it is amazing to see him develop from being pink and hairless into a fully-formed, if tiny, koala.
"At the moment he seems to be all ears. He has also starting to develop his own personality, he can be quite feisty like his mother Alinga and father Goonaroo."