Security boss John Lindsay jailed for torture of Jamie Alexander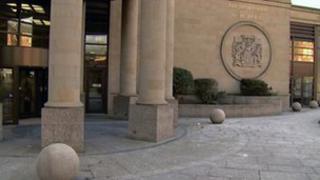 A security boss has been jailed for seven years for the "inhumane torture" of a vulnerable man.
John Lindsay and two accomplices poured boiling water on Jamie Alexander, 20, before dumping him in a kennel with two large dogs in a 90-minute ordeal.
The victim was also burned with cigarettes after wandering into Lindsay's unlocked home in Edinburgh.
Lindsay, 52, who admitted the attack, was also ordered to pay Mr Alexander £5,000 compensation.
Edinburgh city councillor David Walker had written a letter asking for Lindsay to be spared jail.
But at the High Court in Glasgow, Lord Turnbull ignored the plea - which he branded "preposterous" - and said a significant prison term had to be imposed.
The judge said Lindsay, director of JSL Security Services in Edinburgh, had behaved in an "inhumane manner" which involved the "humiliation" of his victim.
He also told Lindsay that given his background "taking the law into his own hands" made the offence more serious.
The court earlier heard how Mr Alexander, who was sleeping rough, lost his return ticket from Falkirk to Edinburgh, had no money and had been wandering the streets for days.
Kennel area
He eventually found himself outside Lindsay's home on the outskirts of Edinburgh.
Mr Alexander walked into the unlocked house seeking directions.
He was asked by Lindsay's wife: "What are you doing in my house."
She told him to sit on a bench and phoned her husband, who turned up with two men.
The trio confronted Mr Alexander, who was repeatedly kicked and punched before being dragged to a kennel area and ordered to have " a think about things."
Prosecutor Andrew Brown QC said: "He was left alone wearing only his T-shirt.
"Two large dogs were in the kennel at this time including a Rottweiler, but they did nothing."
The victim's wrists and ankles were bound with cable ties.
Boiling water
He was then subjected to a prolonged and vicious attack during which he was repeatedly asked who he was and why he was there.
It was suggested he was there to steal, but he repeatedly denied this.
Mr Brown added: "Mr Alexander is unsure about the exact order of events. However, he remembers the second unidentified man striking him at least 10 times with a metal pole.
"The accused left at one stage, returned with a chair and sat down beside the complainer.
"He had a lit cigarette in his hand and repeatedly stubbed it into Mr Alexander's body. He also used a lock-type knife to cut him on the left arm and body."
One of Lindsay's accomplices then appeared with a kettle and slowly poured boiling water over Mr Alexander's naked groin.
The court heard the victim screamed in pain and thought he was "going to be killed".
After 90-minutes, Mr Alexander was given a rag to wipe blood away before being ordered not to tell police.
His attackers gave him six £1 coins and told he was lucky as "hardly anyone gets away".
The victim suffered two black eyes and a broken nose.
'Horrific ordeal'
He had also had cigarettes burns marks on his left arm and scalding to his hands and thigh.
Lindsay's QC Neil Murray said the offence was a "horrific ordeal" for the victim and that there was "no real explanation" for it.
At a hearing last month, Lord Turnbull was handed a letter from Councillor Walker on official Edinburgh City Council notepaper.
The Labour councillor for the Craigmillar and Portobello ward asked for Lindsay not to be jailed.
In an outspoken attack, the judge described the plea as "preposterous" and said he had never "seen anything more ridiculous" in his legal career.
Lord Turnbull added at the time: "This is an act of barbaric torture over a prolonged period of time on a vulnerable young man.
"This councillor proposes it should be dealt with by a non-custodial sentence.
"What troubles me is the way in which this individual does so in his public capacity."
Lord Turnbull ordered his clerk to make Mr Walker aware of the full facts of the case and asked for an apology.
It is believed the councillor has since written to apologise.