'No danger' over Edinburgh Airport alert baggage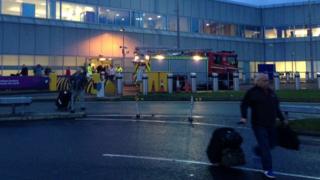 Managers at Edinburgh Airport have said the site has been declared safe after an alert over a passenger's baggage.
The terminal building had been evacuated due to concerns about an item found at the airport's security area.
Police Scotland said the terminal and access road were closed at about 13:50 following the discovery of "a potentially suspicious bag".
Passengers and staff were asked to leave the terminal building while an investigation took place.
Bomb disposal experts were called to the airport and a cordon was put in place. The airport was closed to all flights until about 17:00.
Ch Insp David Campbell, from Police Scotland's Border Policing Command, said: "As part of a routine bag search at the airport, suspicions were raised about the contents of one item of hand luggage and the decision was taken to evacuate the airport while the appropriate inquiries could be carried out.
"We are now satisfied there isn't, nor was there ever, any risk to the public and the airport will now begin to reopen.
"We would like to thank the public for their patience and co-operation during the emergency service response."
A BBC reporter was told that a male passenger was stopped by security staff.
A source said the investigation was at an early stage but this did "not look like another Glasgow Airport", referring to a terrorist attack in 2007.
Security cordon
It is understood the authorities are working on the theory that the passenger being questioned about a suspicious package may have an innocent explanation.
Some passengers were bussed to the Royal Highland Showground at Ingliston.
Earlier, Carlos Martinez, who was stuck on a plane that arrived from Alicante, told the BBC: "At first we weren't even allowed to approach the terminal, but now the plane is parked in some way, but no-one is allowed to get off.
"We have been told the airport is closed and no-one is allowed in or out. We haven't been told why. The crew has told us they know nothing officially."
A Scottish government spokeswoman said the first minister, deputy first minister and justice secretary were aware of the incident and the government's resilience operation had been activated.
She said: "Police Scotland are in operational charge of the situation and continue to update ministers on a regular basis."
EasyJet, which has had flights from Munich and Berlin diverted to Glasgow Airport, told customers the situation could take up to three hours to be resolved.
The airline tweeted: "The local authorities at Edinburgh airport have assessed the situation and estimated a minimum of 2-3 hours until the issue will be resolved.
"We advise all passengers to regularly check our flight tracker for any updates and the status of your flight."
At Glasgow Airport, seven flights were diverted from Edinburgh.