Fun fair roundabout ride stolen from Halbeath in Fife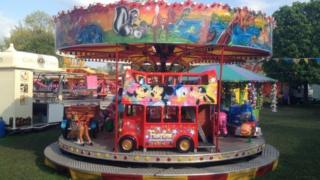 A trailer containing a fun fair ride has been stolen from near a service station in Dunfermline, Fife.
The £40,000 roundabout, with horses, dolphins, a bus, and a fire engine, was parked by its owners on the service road to Kingdom Services at Halbeath
It was taken sometime between 18:00 on Tuesday 31 December and 13:00 on Friday 3 January.
Police said the thieves must have used a high-powered vehicle with towing equipment to move the 18ft (5.5m) ride.
Disney characters
Community Sgt Darren Stewart said: "This is quite an unusual theft concerning a high-value piece of showground equipment.
"It is best described as being a children's roundabout which is housed on an 18ft trailer. The ride itself is pink and blue in colour with Disney characters on the top and has several horses, a red bus, a fire engine, a car and dolphins for children to ride on or in.
"For someone to steal the trailer would require a high-powered or large vehicle fitted with the necessary towing equipment."
He added: "I am asking for anyone who may have witnessed this theft or to anyone connected with this industry who may been offered the ride for sale to contact us."