Engagement rings worth £21,000 stolen from Edinburgh jeweller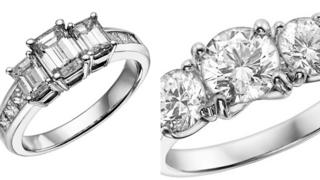 Police have appealed for information after two rings worth a total of about £21,000 were stolen from an Edinburgh jeweller.
The theft happened at about midday on Saturday at the Robert Anthony store on Rose Street.
A man entered the shop and asked to see engagement rings. While a second man distracted staff the first man snatched the rings and the pair escaped.
Detectives have urged anyone who saw anything suspicious to come forward.
The first man was described as white, late 20s to early 30s, wearing a khaki fleece and trousers. He also was wearing a khaki winter hat with earflaps.
The second suspect was described as white, mid to late 20s, wearing a heavy winter jacket and a winter hat with earflaps.
Det Con Gavin Watson said: "The suspects did not threaten the staff members in anyway, but used distraction tactics and seized on the opportunity to make off with two valuable engagement rings.
"We are keen to hear from any members of the public who were on Rose Street on Saturday afternoon and remember seeing anyone or anything suspicious in the area.
"In addition, anyone who recognises the description of these men and can help identify them is also asked to contact police immediately."