Loony Dook swimmers brave Firth of Forth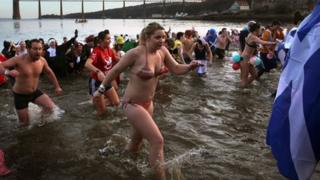 More than 1,000 brave people have taken to the Firth of Forth near South Queensferry to mark the New Year.
The event has been held in the shadow of the Forth Bridge for more than 25 years.
Volunteers in swimming costumes and fancy dress took to the cold water to raise money for charity.
It marked the first date in Scotland's Year of Homecoming for 2014, which includes the Commonwealth Games in Glasgow.
A spokeswoman for Edinburgh's Hogmanay said: "It was another great Loony Dook, with lots of extremely colourful fancy dress.
"We had people in their onesies, hula girls, and even a man all wrapped up in bubble wrap - who was probably the least cold.
"We even had a marriage proposal. One man popped the question to his partner after he'd been in for the dip... and she said yes.
"As usual the RNLI (Royal National Lifeboat Institution) were terrific."