School children 'denied bagpiping' lessons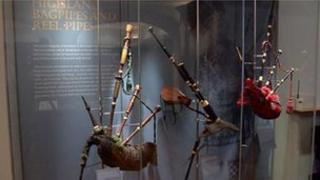 Children are being denied the chance to learn the bagpipes by teachers who look down on the instrument, pipe band supporters have claimed.
Edinburgh's state schools offer free lessons in "mainstream" instruments, including piano and violin.
But they do not include piping and drumming, according to the Scottish Schools Pipe Band Championships.
Parents are being forced to set up their own lessons for children who want to take up the pipes, they said.
'Not right'
Championships convenor David Johnston is concerned that just 60 out of around 2,600 schools have signed up for the event next March.
He said: "Quite simply, many classically trained school heads of music look down on the pipes and want nothing to do with them.
"This means that hundreds of young people desperate to learn pipes and drums in our schools are being denied that opportunity.
"In Edinburgh, for instance, parents in several of the secondary schools have got together and formed after-hours clubs, bringing in teachers at their own expense.
"It seems mad that, in Scotland's capital, city piping and drumming is not on the agenda in the city's state schools yet all the private schools have flourishing bands that bring huge prestige and self-esteem to those schools."
Robert Wallace, principal of the College of Piping, said schools are discriminating against the pipes.
He said: "You can learn the piano for free but not our national instrument. It's just not right.
"Edinburgh Council need a complete rethink on this. Why should children be prevented from learning what is, after all, their musical heritage?
"Piping is booming worldwide and it is disappointing to see Edinburgh so out of step with this popularity."
Drumming lessons
The Scottish Schools Pipe Band Championships will be held at Broughton High School in Edinburgh on 9 March. The deadline for entries is 24 January.
Edinburgh City Council said no funds are available to provide free piping and drumming lessons in schools.
Paul Godzik, Labour councillor for Meadows/Morningside ward, said: "Music is an important part of the curriculum and, unlike many local authorities, Edinburgh continues to offer free tuition in all our schools.
"However, due to the financial climate facing all local authorities, there is no funding available to expand the service.
"To include drumming and the chanter to the city's instrumental music service without additional resources would have an effect on current provision and could mean significantly cutting tuition currently available in other instruments."