Edinburgh's Hogmanay: Scotland promoted to one billion people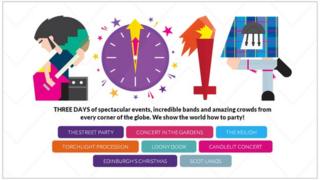 Edinburgh's Hogmanay will promote Scotland to a billion people around the world in what organisers said is the biggest year in the nation's history.
"Scotland's big year starts here" is the slogan for this year's Hogmanay party in the city, with tickets having been bought from 60 countries.
The Commonwealth Games, Ryder Cup and the independence referendum are taking place in 2014.
Organisers said they were keeping an eye on the weather.
Stormy weather
The unsettled conditions are forecast to continue right up to Hogmanay but the Met Office said there is "nothing horrendous on the horizon".
The new national police force will guard the expected 80,000 revellers for the first time, although Police Scotland's Edinburgh commander said the response will be almost identical to Lothian and Borders Police's "successful" stewardship of the event over the last 20 years.
Pete Irvine, Unique Events director, said: "2014 will be the biggest year that Scotland has ever had, and probably ever will have.
"Edinburgh's Hogmanay is by far the biggest television event in Scotland, going out to a billion televisions around the world and on international news bulletins every 15 minutes for around 36 hours.
"This year people are going to hear from Scotland a lot.
"The Commonwealth Games will go out to all of the Commonwealth and English-speaking countries, and the Ryder Cup is the biggest television event outside of the Olympics.
"So there's an awful lot of focus on Scotland, never mind the referendum."
Senior Met Office adviser Graeme Forrester said: "We have had particularly stormy weather right across the country over the last few weeks. It's been pretty unsettled and there's no great changes to that pattern over the next few days I'm afraid.
"However, the good news seems to be that those storms should be becoming a bit less intense but, in such a mobile situation, it's very difficult to nail down periods of stormy weather.
"There's nothing horrendous on the horizon but it's still very unsettled, so we will just have to keep an eye on it. People should monitor the forecast and make sure they're suitably clad for the conditions."