Patient infected with Hep C at ERI emergency department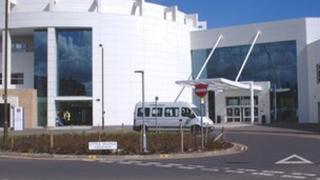 NHS Lothian has apologised for "failings" in procedures after a patient was infected with Hepatitis C through cross-contamination at ERI.
Investigations show the patient was likely to have become infected through cross-contamination which occurred in the emergency department.
The incident with the blood-borne virus happened in July.
NHS Lothian has followed up with 34 patients who were also being treated in the department at the same time.
Their risk of infection "is deemed to be very low" but as a precaution they are being tested.
Hepatitis C can infect and damage the liver.
The virus can be treated with antiviral medicines that stop it from multiplying inside the body and prevent liver damage.
About 1% of the Scottish population are infected with the virus.
NHS Lothian said infection control measures in the emergency department have been fully reviewed and extra measures have been put in place.
The importance of hand hygiene and the risks associated with blood-borne viruses are being reinforced with staff across NHS Lothian.
An NHS 24 helpline has been set up to help answer any questions from the public.
Dr David Farquharson, NHS Lothian medical director, said: "We take infection prevention and control extremely seriously and the safety of our patients is our top priority.
"Unfortunately on this occasion we have fallen below the high standards which we expect.
"We have spoken to and, apologised to the individual involved, and I would like to take this opportunity to publicly apologise for the distress this has caused.
"This investigation has identified failings in our processes and these are being urgently addressed.
"I would like to re-assure everyone who has visited our Emergency Department that the risk of being infected is very low. If anyone is at all concerned, I would encourage them to contact the dedicated helpline for more information and advice."