Baby delivered in Cameron Toll petrol station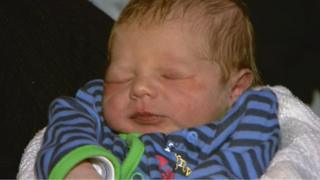 A woman has given birth to a baby boy in an Edinburgh petrol station.
Nicola McDowall, 34, said her partner, Julian Skinner, 44, was driving her to hospital when he was forced to pull into Cameron Toll petrol station.
The baby is to be given the middle name will be Cameron after the south of Edinburgh shopping centre complex where he was born at 21:30 on Monday.
The couple are appealing for a midwife, who was at the petrol station and delivered the baby, to come forward.
Mr Skinner said he was at restaurant having a Christmas meal with friends when he got a message from his partner saying she needed to go to hospital straight away.
On the way to hospital from their home in the Newington area of the city, Ms McDowall, who already had two young sons, phoned Edinburgh Royal Infirmary to say she could feel the baby coming.
They told her to stop the car and phone an ambulance.
"At that point I was starting to panic a little bit," said Mr Skinner.
"I was going to pull off into one of the side streets but then I decided to go a bit further and go into Cameron Toll because I thought the place might still be open and there might be someone in the shopping centre who could help us."
Mr Skinner said he went into the petrol station and the assistant called for help.
"This guy who was putting petrol in his car said I have got someone here who can give you medical assistance," he said.
"This woman jumps out of the car and says 'I'm a midwife'. At that point I was thinking 'this is really lucky, she can take over'."
Ms McDowall said that from the contractions starting at home to delivering the baby in the petrol station was just 45 minutes.
She said the baby is fine and she is also doing well "apart from being shocked and tired".
Both Ms McDowall and Mr Skinner said they would like to thank the midwife, whose name they forgot in the panic.
Ms McDowall said they were still working on a first name for the boy but his middle name will be Cameron after the shopping centre where he was born.