New Fife recruit for search dog team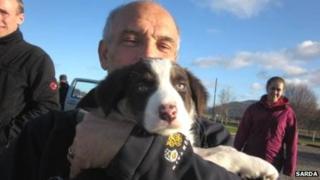 A Scottish search and rescue dog team has a new recruit, a 12-week-old collie in Fife called Clova.
The puppy will begin training in May to help police and mountain rescue units locate missing climbers.
Clova belongs to St Andrews-based Rodney Stoddart, 58, who has three decades experience in mountain rescue.
Clova also has to be trained to accept being winched 200ft in the air by helicopter in case she has to be lowered onto a narrow ridge.
Trained dogs track using human scent and can cover large areas in a short space of time, day or night and in all weather conditions.
Bravery award
Mr Stoddart is preparing to train Clova after years of working with Driesh, his nine-year-old collie who is credited with saving at least 10 lives.
Earlier this year Driesh was honoured by the PDSA Animal Bravery Awards programme.
Mr Stoddart, a volunteer with the Search and Rescue Dog Association (Sarda), said Clova is already showing some of the attributes necessary to become a successful member of the team.
He said: "She's potentially got some of the things I like to see, like inquisitiveness.
"A lot of people have been holding her and saying hello so we are building up the people side of things.
"But importantly, she's going to enjoy her puppy life, pulling my boots across the floor like she's been doing. Then hopefully we will begin training in May next year."
Scotland has 21 search dog teams which are available round the clock for call outs from the police and mountain rescue crews.
Training takes two years.
Mr Stoddart said: "Our skills have to be pretty sharp as far as winter techniques are concerned and you've got to be OK working with equipment and with your dog.
"There's the helicopter work too, where the dogs might be winched 200ft.
"Where a helicopter can't land you on snow or ice or through a narrow ridge or something like that, you get lowered down.
"You can't just put a young puppy through that type of ordeal without doing training and building it up."