Strike may close National Museum of Scotland on Boxing Day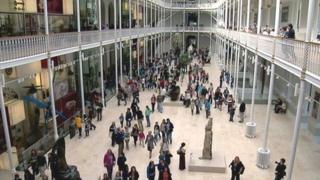 Industrial action may mean the National Museum of Scotland in Edinburgh is closed on Boxing Day.
Officials at the Chambers Street visitor attraction said they would make a decision on the day when they knew how many staff had turned up to work.
The museum would normally open from 12:00 until 17:00 on Boxing Day.
Last week museum staff voted overwhelmingly in support of strike action in a long-running dispute over weekend allowances.
Enhanced payments
Strike action was supported by 96% of Public and Commercial Services Union members who voted.
The union said for more than two years, new staff at the museum had been denied enhanced payments for weekend working, payable to other staff.
A National Museum of Scotland spokesman said: "Due to anticipated industrial action this week, the National Museum of Scotland may be closed on 26 December 2013.
"These circumstances are entirely outside of our control and we apologise for the inconvenience caused to our visitors, particularly at this time of year.
"The museum will open as normal on Friday 27 December."