Pentland Hill Nursing Home: Standards improving, report says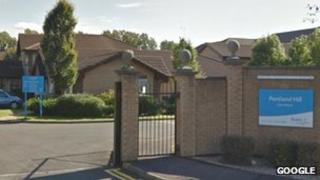 Care services are improving at a closure-threatened private nursing home in Edinburgh but new admissions remain suspended, inspectors have found.
Police are investigating four Pentland Hill nursing home deaths and the Care Inspectorate is looking at four separate quality of care complaints.
Last month, inspectors said the home must show immediate evidence of significant improvement or close.
The Care Inspectorate was published on Monday.
A formal improvement notice issued in August will remain in place until a further inspection in the new year.
A Care Inspectorate spokesman said: "The health, safety and wellbeing of residents is the absolute priority which is why we are taking enforcement action against Pentland Hill, and working closely with the council and NHS to safeguard every resident.
"This home is not yet operating at the standards we require, but we have seen some evidence of some improvement. This is in the early stages and needs to be sustained.
"A new home manager has made changes, including purchasing new fittings and providing stronger management oversight of care staff.
"We saw additional progress in pharmacy, mealtimes and tissue viability, but variability and inconsistency remain."
Inspectors got involved following a significant number of complaints in the last year.
They carried out an unannounced review in July after upholding three complaints from families of residents and have followed up with two further inspections.
The spokesman added: "We have not lifted the improvement notice and will carry out an unannounced inspection in the new year where we will assess whether to revoke this home's licence to operate."
Vivienne Birch, director of partnerships at Bupa, which runs the home, said: "We're pleased the Care Inspectorate has seen improvements within the home.
"We have introduced a new leadership team, recruited more staff, invested in new equipment and made significant improvements to medication management and nutrition.
"Our residents and their families tell us they are also seeing a difference from all the changes."