One treated after Edinburgh Royal Infirmary chemical spill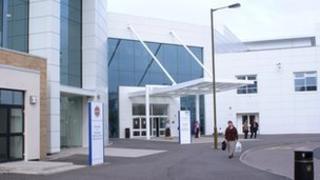 One person is being treated following a chemical spill at a hospital.
Twelve people attended accident and emergency and two wards were cleared as a precaution as firefighters dealt with the incident at Edinburgh Royal Infirmary.
The fire service said the disinfectant sodium hypochlorite was spilled near the basement of the hospital.
The chemical can cause irritation if inhaled and burning if it comes into contact with skin.
Exposure can also cause headaches and vomiting.
Firefighters wearing chemical suits were first called to the hospital at about 10:30 on Monday.
Hospital director Lyn McDonald said: "The Scottish Fire and Rescue Service remain on site at the Royal Infirmary of Edinburgh dealing with a chemical incident.
"We have been able to minimise the impact on patients thanks to the good team working of our staff on site.
"Unfortunately, as a result of the incident 12 people, all working on site, have attended the emergency department. Eleven of those have been discharged and one has been admitted to hospital."