Footballer, 13, dies during Tynecastle FC match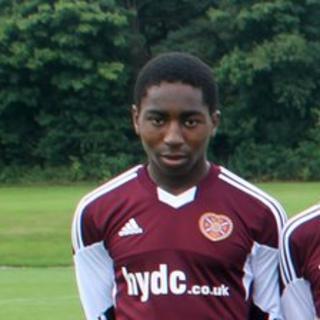 Tributes have been paid to a promising young footballer who collapsed and died during a match in Edinburgh.
Jamie Skinner, 13, was playing for Tynecastle FC's Under-14 team at the Saughton astro pitch when he fell to the ground.
Attempts by ambulance staff and others to revive him failed.
Tynecastle FC said Jamie would have had a bright future in the game and everyone at the club was "in total shock" at his death.
Jamie moved to the club recently after playing for Hearts Under-14s.
'Tragic event'
In a statement, Tynecastle FC said: "A tragic event happened at Saughton Astro on Sunday 22nd December 2013 - a young boy playing for the Under-14s, Jamie Skinner, playing the game he loved, lost his life on the pitch.
"In an innocuous event during the game Jamie collapsed and despite the valiant attempts of everyone at the game, and the ambulance service, attempts to revive him were sadly in vain.
"Although Jamie was new to our Tynecastle family, he had up until recently been playing for Hearts, he was a prospect that undoubtedly would have had a bright future in the game.
"No words can fully express our grief and dismay at seeing this happen, we can only pass on all our thoughts and prayers to friends and family and hope they will get some strength from the out pouring of love and support from everyone."
It added: "Everyone at Tynecastle is in total shock at what has happened, and we are sure the youth football community will join with us in also thinking of all the players, coaches and supporters at the game who witnessed this sad event, and the club also thanks everyone who tried to assist."
As a mark of respect all Tynecastle teams will hold a minute's silence before their next game.
St Mirren defender Danny Grainger, who formerly played for Hearts, tweeted: "seen the news about the young lad who played for tynecastle u14's! Terrible news and my thoughts go out to his family at this terrible time."
Heart of Midlothian Youth Development Committee also expressed sadness at Jamie's death.
In a statement it said: "It is with deep sadness that we note the tragic news of Jamie's untimely death while playing football for Tynecastle FC U14s this morning.
"Jamie was a talented and athletic young footballer who was a member of Hearts U14 squad for the first half of this season.
"Our thoughts are with Jamie's family and friends at this sad time."
Hibernian player
Hibernian football club, meanwhile, have confirmed the death of an 18-year-old player in their youth team.
David Paul, the club said, passed away in the early hours of Sunday at his home in Edinburgh.
There are understood to be no suspicious circumstances surrounding his death.
Hibs chairman Rod Petrie said: "Everyone at the club is deeply affected by this. David was a talented and promising young footballer, and a fine young man.
"Our thoughts - and the thoughts of the entire Hibernian community - are with his family at this dreadful and difficult time for them.
"Whilst we understand that people will wish to offer their support, we hope that the wishes of the family for privacy will be respected."