Duchess opens £1.35m cancer centre in Edinburgh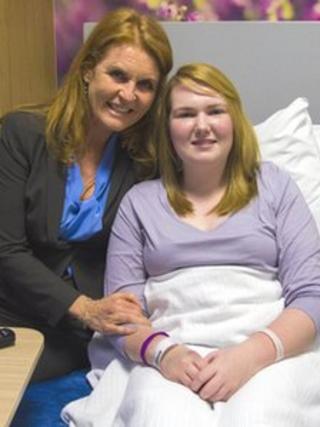 Sarah, Duchess of York has opened a £1.35m facility in Edinburgh for young people with cancer aged 16 to 24 in the East of Scotland.
The Duchess chatted to some of the first young patients to benefit from the new facilities at the Western General Hospital in Edinburgh.
About 200 young people are diagnosed with cancer in Scotland every year.
The state-of-the-art unit cares for patients from the Lothians, Borders, Fife and Dumfries and Galloway.
Bethany Millar-Gourlay, 19, who was diagnosed with Leukaemia last summer and is one of the first patients, said: "I used to come to the adult ward for treatment and I was the youngest there.
"Although the other patients were very kind to me I did miss people my own age and having things to do.
"I'm now having my maintenance chemotherapy at this new unit and it so different. It looks great and there's a lot to do."
Dawn Crosby, Teenage Cancer Trust head of service strategy in Scotland said: "This unit looks amazing but more than that, it will significantly improve young cancer patients experience, helping them and their families feel less alone.
"All of the money has been raised locally in a really difficult financial climate. We want to say a massive thank you to everyone who has given generously and helped make this happen."
It has four single patient bedrooms with en suite bathrooms. It also has a large open-plan activity and social room which includes a kitchen and dining area, as well as an area to watch TV, a jukebox, and a gaming area.
There is a day care room for outpatient treatment, and a quiet room where young people and their families can spend time.
There is also wifi throughout the unit.