St Anne's Episcopal Church in Dunbar vandalised with white paint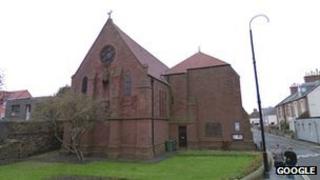 Vandals have painted the letters BM and numbers 666 on the wall of an East Lothian church.
Police have launched an investigation following the vandalism of St Anne's Episcopal Church in Dunbar, between 17:00 on Saturday and 12:00 on Sunday.
A car parked in nearby Parsonspool was also targeted with white paint. The owner has no connection with the church.
The white emulsion paint has now been removed from the car.
Insp Ian Mackay, of Police Scotland, said: "This is an isolated incident but was nonetheless upsetting for those involved.
"It's possible that someone may have noticed the suspect carrying white paint or may have noticed suspicious activity around the time of the incident.
"We ask that if anyone has any information then they should contact police."