Driver Keith McCardle admits drink-driving killing of Gavin Fulton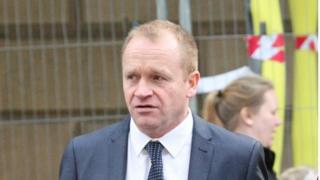 A driver has pleaded guilty to killing a 43-year-old man who was walking home from a Christmas party last year.
Gavin Fulton, 43, was knocked down in Edinburgh on 8 December 2012.
Keith McCardle, 51, admitted causing his death by dangerous driving. His Land Rover Freelander swerved on to the pavement on Dundas Street at 01:20.
McCardle had been drinking before getting behind the wheel. He will be sentenced next month.
Three hours after the incident, McCardle gave two breath tests, the lower of which showed he had 63mg of alcohol per 100ml of breath. The legal limit is 35mg.
McCardle, from East Lothian, had earlier been drinking at Bennets Bar in Edinburgh's Tollcross with his now wife, Donna, and sister Lorna McCardle.
'Wife and children'
They left the bar at 01:00 and picked up his Land Rover Freelander in nearby Tarvit Street before he started driving his sister to her home in East Claremont Street.
Witnesses said they saw his car zigzagging all over the road in Dundas Street in an "erratic manner and out of control".
Mr Fulton had been heading to his home in Edinburgh's Claremont Bank.
Just after the collision, McCardle got out of his car and told a passer-by: "I killed him. I hit the guy and he's dead."
McCardle pleaded guilty to a charge of causing death by dangerous driving before judge Lord Doherty.
Speaking after the hearing, Bill Fulton, 73, paid tribute to his son and urged people not to drink and drive.
Mr Fulton, a former manager with computer firm Hewlett Packard, said: "All I can say just now is that the consequences of you risking drinking and driving are so dire especially for the victim who gets a death sentence, that's a punishment our society deems too severe for the most vicious murderer.
"His family and friends lose a loved one and suffer for years and the offender loses his freedom, driving licence and self-respect, making everyone a loser - there are no winners, only losers.
"I appeal to you - please, please do not drink and drive."
Insp Tracey Robinson, of Police Scotland, said: "Keith McCardle knew he was over the limit when he got into his vehicle and began driving.
"His disregard for the legal alcohol limit has resulted in the tragic death of Gavin Fulton and left his wife and children devastated.
"This incident was all the more heartbreaking given it happened over Christmas and McCardle's arrest and subsequent guilty plea should serve as a reminder that police are robustly monitoring our roads to identify those driving while under the influence.
"We are currently running our festive drink-driving campaign and I would stress that the risk of being caught, should you chose to drive whilst intoxicated, has never been higher.
"You will be caught. You will be prosecuted and you will have to deal with the consequences for the rest of your life."