David McDougall convicted of six Fife rape charges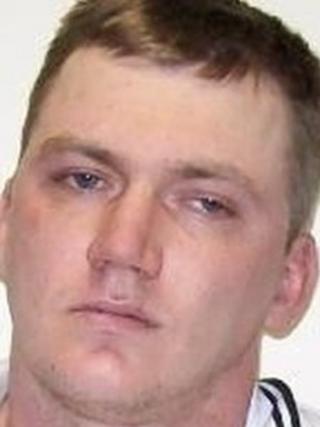 A Fife man has been remanded in custody after being convicted of six rapes, as well as other serious sexual offences and physical assaults.
David McDougall, 31, was warned by judge Michael O'Grady to expect a "very significant" jail sentence.
The court had heard McDougall raped one vulnerable woman just five days after being freed on bail to await trial on other rape charges.
The attacks took place in Methil, Buckhaven, Glenrothes and Kirkcaldy.
McDougall was found guilty of a total of 14 charges, with one of the offences dating back to August 1998.
The physical assaults included kicking a pregnant woman.
'Utterly cowardly'
The judge told him: "You clearly regard women as objects for your own gratification.
"Your conduct has been despicable and, of course, utterly cowardly."
He added: "You may take it that the sentence will be a very significant custodial one."
McDougall's conviction has been welcomed by Police Scotland.
Det Insp John Anderson of Fife's Domestic Abuse Investigation Unit said: "David McDougall without doubt represented a clear risk to vulnerable people living in Fife.
"The Unit identified him as someone who was causing misery to his victims and decided to take every available investigative option in order to ensure that he answered for his crimes and to make our communities safer.
"Police Scotland has consistently said that domestic abuse will be given the very highest priority, and this conviction is a direct result of that commitment and of the resources that has been invested in this horrific area of criminality."