Scotland's main airports see rise in passengers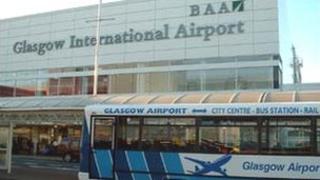 Glasgow Airport had its busiest November in six years, while Edinburgh and Aberdeen also recorded passenger growth, according to figures.
Almost 514,000 people travelled through Glasgow Airport last month, up 3.1% on the same time in 2012.
Edinburgh Airport saw an 8.5% rise with 685,929 passengers flying to or from Scotland's busiest airport.
The number of passengers handled by Aberdeen Airport reached 287,000, up 4.3% on the previous November.
Long haul
At Glasgow Airport a "strong demand" for long haul routes to Dubai and the US contributed to an increase of almost 11% in international traffic, officials said.
Celtic's Champions League clash with Ajax also boosted international traffic figures.
Amanda McMillan, Glasgow Airport managing director, said: "We have been consistently growing passenger numbers over the course of the past three years and much of our recent success has been driven by the performance of our international routes, which is particularly pleasing.
"We are looking forward to what promises to be a busy festive period after which our attention will turn to 2014 and to delivering a successful and memorable Commonwealth Games."
The airport, which serves more than 100 destinations worldwide, is in the second phase of a £17m investment programme ahead of the Commonwealth Games.
Route network
Gordon Dewar, Edinburgh Airport chief executive, said: "We're delighted that November saw such a high number of passengers travelling through our terminal.
"Last month we delivered what we've been promising for some time with the announcement of new long-haul services to America, Canada and the Middle East.
"These will undoubtedly strengthen our route network and provide our passengers with even more choice."
Carol Benzie, Aberdeen Airport's managing director, said: "We are hopeful that we can end 2013 on a high note.
"Growth has been recorded each month for the last three quarters of the year and whilst it is too early to tell, our predictions suggest that the results for December should be equally positive.
"Of course, at this time of year the weather can have a real influence and we watch every forecast with interest. Our snow plans, which are well practised, have been put into place and we have teams on call to react when the weather demands it."