East coast rail study submitted to transport minister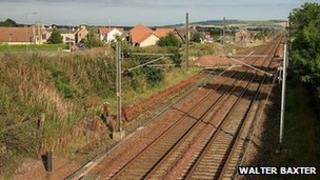 The final study into a rail service between Edinburgh and Berwick-Upon-Tweed has been submitted to the minister for transport.
The report recommends establishing a service from Edinburgh to Dunbar and Berwick-upon-Tweed, together with new stations at East Linton and Reston.
Officials said it would increase access to rail travel throughout East Lothian and the Borders
The Sestran report was submitted to Keith Brown MSP.
Russell Imrie, Sestran chairman, said: "The report shows that there is a clear social and economic case for improving access to rail along the Edinburgh to Berwick-Upon-Tweed line.
"It would open up access to rail travel for thousands of commuters in East Lothian and the Borders, and offers major benefits for the local economies and tourism.
"The study has been prepared in close liaison with Transport Scotland and we are grateful for all their input and advice. We also greatly appreciate that this proposal is included as a priced option in the draft ITT for the re-letting of the ScotRail franchise."
Comprehensive service
Michael Veitch, East Lothian Council's transport spokesman, said: "I'm delighted that after many months of hard work by everyone involved, this important report has been published.
"It makes a robust case for a comprehensive local rail service between Edinburgh and Berwick serving the various stations in East Lothian.
"I hope that it is received enthusiastically by the Scottish government, and, crucially, that it paves the way for the speedy re-opening of a station at East Linton."
Gordon Edgar, Scottish Borders Council's executive member for roads and infrastructure, said: "This is a vital report for the future of rail travel on the East Coast, including the opportunity to re-open the station at Reston".
"The publication of the report follows a recent announcement by Transport Scotland that the new ScotRail franchise would need to consider new stations at Reston in Berwickshire and East Linton in East Lothian, and is equally welcomed".
"We hope the Scottish government will consider the report in full and give their support to all the hard work which has so far been carried out by SBC, ELC Sestran and Rail Action Group East of Scotland."