Work starts on new James Gillespie's High School in Edinburgh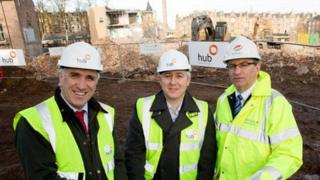 Construction has begun on a new £34m school in Edinburgh.
The existing James Gillespie's High School building in Marchmont is being demolished, to be replaced by a new teaching block and sports facility.
The grade A-listed Bruntsfield House on the campus is to be refurbished.
A new nursery and gym for James Gillespie's Primary School have already opened at the site, and the high school for 1,150 pupils and 104 staff is due to be completed by summer 2016.
The Scottish government said it was supporting £20m of the cost of the new school with funding from its £1.25bn Scotland's Schools for the Future programme - under which 67 new schools are planned.
Deputy First Minister Nicola Sturgeon said: "In Scotland we are building many new schools, and refurbishing still more to provide an excellent learning environment for staff and pupils.
"Investment in infrastructure projects such as the new James Gillespie's High School, not only supports jobs and apprenticeships locally, but it also helps the wider Scottish economy."
Paul Godzik, education convener at Edinburgh City Council, said: "I was really impressed with the high quality facilities at the primary school which I opened last month and those buildings have definitely set the standard for the high school."
Gemma Gordon, schools programme director with Scottish Futures Trust, said: "SFT's work in managing the Scotland's Schools for the Future programme has meant an additional 12 schools will be built from within the existing £1.25bn budget.
"James Gillespie's High School is the first revenue-financed project to be delivered by the South East Hub.
"Reaching financial close means construction is under way now rather than waiting many years for capital funding to become available."
The late novelist Muriel Spark, author of the Prime of Miss Jean Brodie, attended what was previously James Gillespie's High School for Girls.